Barnes Makeup Foundation (2007)
A New Cosmetic Line Created by the Homeless Museum to Raise Funds for the Preservation of the Barnes Foundation in Merion, Pennsylvania
When the Homeless Museum, a long-time admirer of the Barnes Foundation in Merion, Pennsylvania, learned about the imminent displacement of the venerable institution, it shot immediately into action and developped this exclusive, limited-edition base for the crumbling Foundation.
Available in four distinct shades, Barnes Makeup Foundation offers complete coverage and a flawless finish without any buildup. Its ultra-smooth texture allows for even application and is designed to feel like a second skin. Wrapped in shabby-chic FoodSaver pouches, each makeup tube comes with its own complimentary Camel Hair Applicator.
Renoir Pink (1.5 oz, $476)
A base of soft clay blended with a touch of French primrose oil, this blush foundation will rejuvenate your skin and make it look like it did when you were twelve - and a virgin.
CÚzanne Brown (1.5 oz, $454)
Feel strong with this robust foundation that shields skin from the elements with its unique essence of olive tree bark and sea breeze extracts.
Van Gogh Yellow (1.5 oz, $469)
Add a touch of hysteria by applying this dense, lustrous foundation made with organic ammoniac and essential sunflower oil from southern France.
Picasso Black (1.5 oz, $458)
Get in touch with your primal instincts by applying this earthy foundation to face and body. Ingredients include mud from Sevilla's famed arena and hand-gathered bullfighter's musk.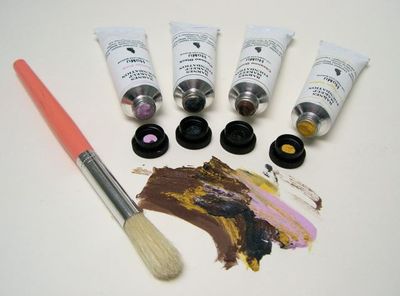 By purchasing one or several kits of Barnes Makeup Foundation, you will be supporting the Friends of the Barnes Foundation in its efforts to block the imminent relocation of the Barnes Foundation away from its rightful home in Merion, Pennsylvania: HoMu will donate half of the proceeds from makeup sales to the Friends of the Barnes Foundation.
Barnes Makeup Foundation - an absolute must-have for the art-conscious consumer.
To place your order, contact Director Noterdaeme at info@homelessmuseum.org.