MoMA HMLSS (2005)
A free Alternative to the Exclusive New MoMA
To continue voicing his disenchantment with the New MoMA's forbidding admission policy, Filip Noterdaeme created a free alternative: a museum-in-a-suitcase inspired by Marcel Duchamp's Box in a Valise, containing over one hundred unauthorized miniature replicas of highlights from the Modern's collection.
In the summer and fall of 2005, Noterdaeme brought his ambulant mini-museum to Paris (France), Waterloo (Belgium), Kansas City (Missouri), and Toledo (Spain).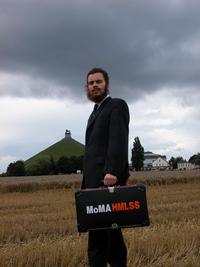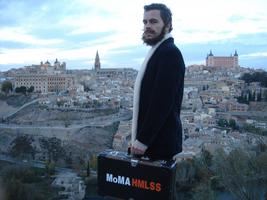 On November 21 2005, to mark MoMA's first anniversary since its reopening, Noterdaeme publicly displayed MoMA HMLSS across from the Modern's main entrance on 53rd Street. In an open letter, Noterdaeme invited MoMA Director Glenn Lowry, Honorary MoMA Chairman David Rockefeller, and President of the International Council Jo Carole Lauder, to step out on 53rd Street and appraise his sly MoMA redux.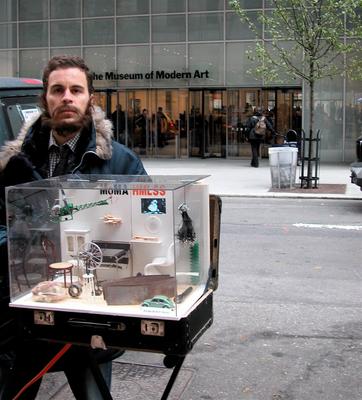 MoMA HMLSS is currently on permanent display at HoMu BKLYN.